School Partnership Program
School Partnership Program
We are grateful and proud to have delivered wellbeing programs to over 1500 schools and early learning centres across Australia.
Through presentations, student curriculum, teacher resources and digital content, The Resilience Project's Education Programs support mental health in the classroom, staffroom and family home. 
Your school has the opportunity to become a Partnership School.
Please register for the information session held at 4pm on 12 August, 2021.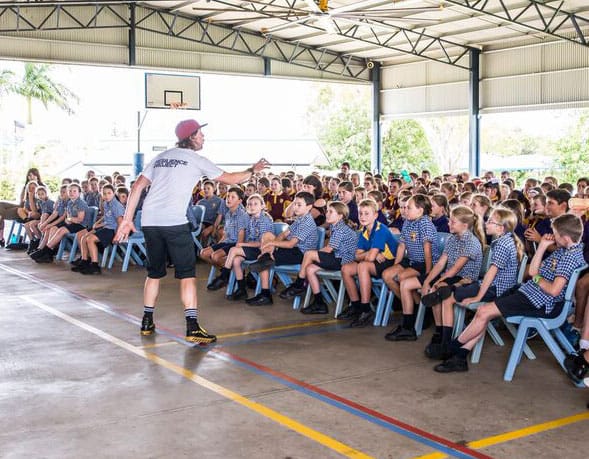 About the School Partnership Program

First we engage STAFF through professional development presentations, teamed with resources and activities which develop a consistent language and approach.

We then inspire STUDENTS across all year levels through the delivery of highly engaging presentations.

And we empower PARENTS AND CARERS with presentations that provide practical strategies to help build their children's resilience, and improve their own wellbeing.
Our CURRICULUM supports the ongoing practise of mental health strategies in the classroom with up to 30 year level specific lesson plans outlined in our Teacher Resource and individual Student Journals.
Register for the information session
Please submit your details below to register for our information session at 4.00pm AEST on Thursday 12 August. 
We will send you a Zoom link to join the webinar close to the session date. 
Partnership Program Details
Schools have a choice of presenter and options to experience The Resilience Project program:
Presenter
Hugh van Cuylenburg or Martin Heppell
Staff presentations
4 x 15-minute digital presentations / PD sessions
Student presentations
4 x age-specific digital presentations (Primary F-2 and 3-6) or (Secondary 7-9 and 10-12)
Parent and carer presentations
4 x 10-minute digital presentations and supporting resources
Curriculum - up to 30 lesson plans for every year level
Outlined in an online Teacher Resource hub and Student Journals
Resilient Youth survey and results meeting
Webinar
Cost
$3,500, plus $19 per student (excl. GST)*
*The student fee can be covered by the school or added to book lists. The fee includes a personal student journal or planner linked to the lesson plans, access to the Resilient Youth survey and additional digital content and curriculum activities.