Through storytelling and behaviour-change communications, The Resilience Project Workplace Program shares practical and evidence-based strategies to manage wellbeing, both in the work environment, and with family and friends.
Why does mental health matter in the workplace?
Its estimated that 45% of Australians will experience a mental health condition in their life, most commonly anxiety and depression.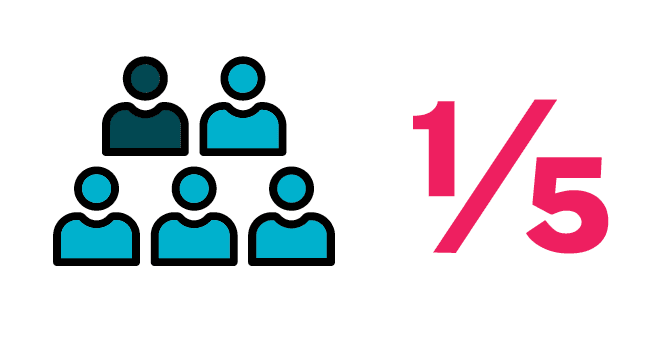 Australian employees say mentally healthy workplace is an important consideration when looking for a job.
Less than half of Australians will seek help.
Australian workers believe that workplaces should be doing more to support mental health in the workplace.
For every dollar spent on effective workplace wellbeing actions, there is $2.30 ROI.
Australian workers are currently facing a mental health condition.
What The Resilience Project delivers.
Our mission is to teach positive mental health strategies to help people become happier and more resilient.
Through presentations, workshops, digital resources and wellbeing journals, we share the benefits of Gratitude, Empathy and Mindfulness, and easy ways to practise these in everyday life. We also incorporate emotional literacy, connection and physical health education and activities, as they are foundational contributors to positive mental health.
The Workplace Program allows you to demonstrate your organisation's commitment to mental health and support your team through:
Evidence-based wellbeing strategies to practise on a daily basis.
Tools to deal with stress and difficult situations.
Improved connection to self and others.
Sustained, positive behaviour change.
While you have the flexibility to tailor the Workplace Program to your needs, this example customer journey demonstrates how many organisations elect to complement the core 'Discovering Resilience' and 'Sustaining a Resilient Culture' programs with presentations and workshops for targeted groups.

Programs are offered in a range of options to allow workplaces to integrate The Resilience Project at varying depths. We provide touch points across a whole organisation; from large-scale presentations and digital wellbeing campaigns, to peer learning sessions and leadership support. 
An overview is below, with detail on each of the offerings available in a flyer here.

The Discovering Resilience program is the flagship offering for workplaces, focusing on the research-backed strategies: gratitude, empathy and mindfulness (GEM). This introductory program is for organisations new to The Resilience Project and their GEM journey.
Discovering Resilience Program (6 month program)
Discovering Resilience presentation
Journal or App (optional)
Discovering Resilience Introduction (one-off)
Discovering Resilience presentation
Journal or App (optional)

This sequel Authentic Connection presentation is offered to organisations which have already completed Discovering Resilience. In this presentation, you will explore the next series of stories and strategies to support wellbeing linked to connection, vulnerability and leading wellbeing. By looking into the benefits of connecting with our community, nature and ourselves, presenters Hugh van Cuylenburg or Martin Heppell share the research and ways to integrate these into everyday life.
The Authentic Connection presentation can be delivered to organisations in-person ($6,900) or by live webinar ($4,900). Optional journal or app purchases can also be arranged.
For general questions and queries, please reach out to us via our enquiry form.
Find out more about the Workplace Program, including how it's structured, the costs involved and supporting program resources.